Sent: Thursday, May 31, 2001 8:06 PM
Subject: Almost there....
Much progress towards completing preparations during the last week. Many of the van improvements have been completed or are near completion. If you thought it impossible to make that van any less aerodynamic, you were wrong. I have significantly extended the lever arms the wind can use to tip me over on two axes, as you can see in these pictures...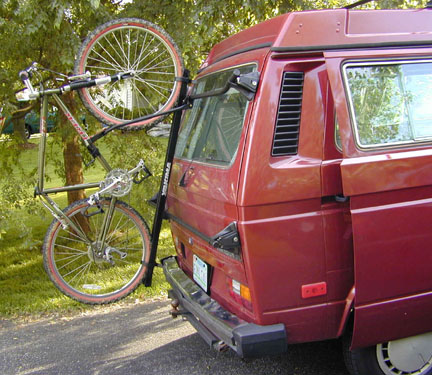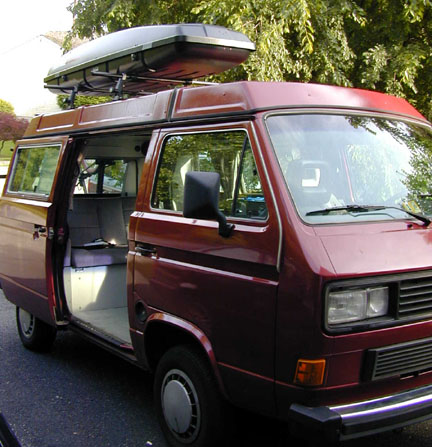 ...the roof cargo carrier and rear hatch bike rack have been installed. Both are "custom" installations. "Custom" actually translates into "these installations are not supported or sanctioned by the manufacturer." I chose these two setups to add storage without compromising the basic functionality of the van. The rear hatch bike setup allows the hatch to be opened with the rack on. The roof cargo box is directly mounted to the pop top, allowing the top to be raised. This installation required drilling directly into the fiberglass top (yikes!). The bike rack required two 15 degree bends to be made on each end of the top bar as you can see in the picture below...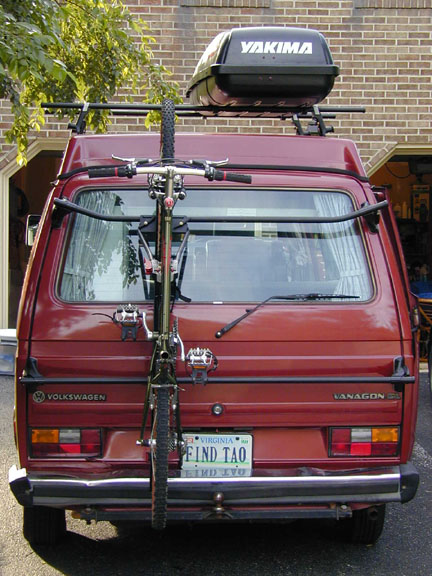 In order to do this, I had to find somebody with a hydraulic press, as the bars are about an inch in diameter and have fairly thick steel walls. Note the new license plate!!
As you can see from this next picture, these additions have significantly expanded the dimensions of the van....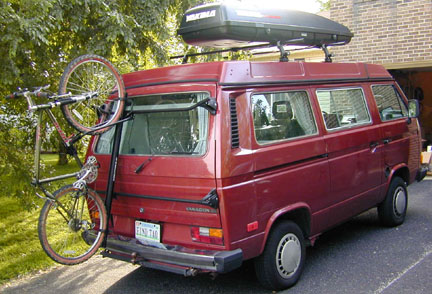 ...the bike adds about 3 feet to the back, and the cargo box add over two feet to the top. I can no longer go through the Bullets drive through on Broad street.
But the exciting news is this:

...my new stereo!!! New speakers all around and a new amp. 75 Watts per channel!!!! And a remote control for when I am hanging out in the back or up in the pop top! I may be living on rice and beef jerky in six months, but I'll have good sound. Of course, the first song I played on the CD player was "The Pump" by Jeff Beck. I will award 1000 points to the first person to e-mail me with the significance of that song.
Here are two more nice shots of the van....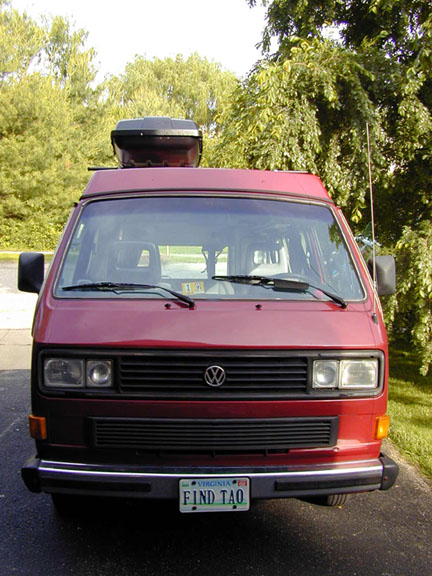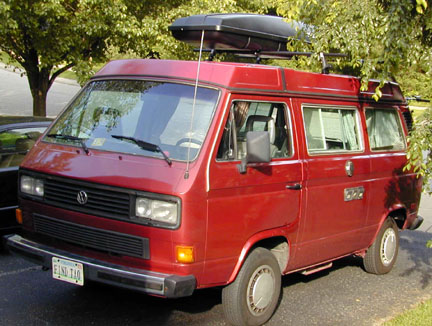 A few more trips to REI have filled in the gaps in my camping gear. At this point the spending is over, and it is time to load up. I have all of my clothes laid out in my parents living room and am about to try to figure out what I will absolutely *need* for the next few months, and how to organize the rest so that when winter comes I can easily identify and ship what I need to wherever I am. I am headed to Richmond on Friday the 1st to store the old 2002, take care of a few last administrative items, spend a day at the beach getting a surfing lesson from my buddy George, and say last goodbyes. From there it is back to Maryland to meet up with my Aunt and Uncle who will be visiting next week (and to rescue my parents living room). I'll wrap up a few more electrical and administrative items next week, and then I am off. Not sure where first yet, I guess I'll figure it out next week. Thanks everybody who has e-mailed me, it is great to hear from everybody. I'll send another update next week as I get ready to go.
Peace
Glenn