Sent: Saturday, June 16, 2001 11:38 AM
Subject: And the beat goes on
Day 2, June 15, 2001 got off to a late start, I didn't get up until 10:00. I guess all the excitement wore me out. No matter, brewed up a little Kenya AA in the coffee press and with Diana Krall serenading me with some old Nat King Cole Trio tunes I packed up and got under way. Made my way up into Pennsylvania on 219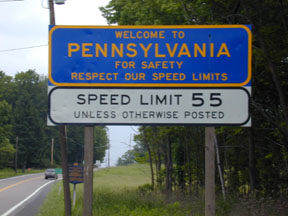 Don't worry, I am mechanically incapable of exceeding your paltry speed limits.
Found the turn for Mt. Davis, but went 10 miles on into the next town, because, well, why not. Not much to see in Meyersdale, but I kind of like this picture: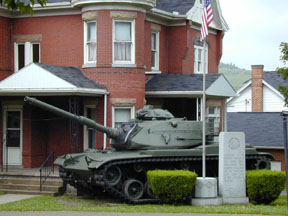 Now that is what I call home security (actually it was a VFW building).
Lots of rolling hills and green fields as I wandered around on back roads. I even passed a few horse drawn buggies (well, passed might be a little aggressive, I gently overtook them while maintaing a large margin of safety). I kept looking for Kelly McGillis, but I didn't see her anywhere. They were, nice, every one I drove by waved to me.
I eventually made my way over to the state forest where Mt. Davis, the highest point in PA (3212 ft) is. It is a several mile drive on dirt roads to the summit. I didn't pass one car or see anybody on the drive up. Here is a picture from about 3/4 of the way up.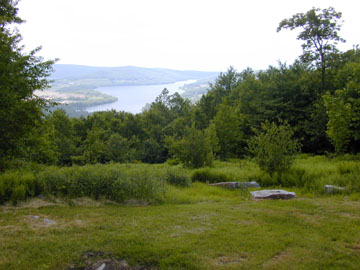 Unfortunately, it was another very hazy day, so the pictures don't really show the mountains and the colors very well, but it was a great view.
The summit itself is actually pretty dull, it is tree covered so there isn't much of a view, but here is a picture.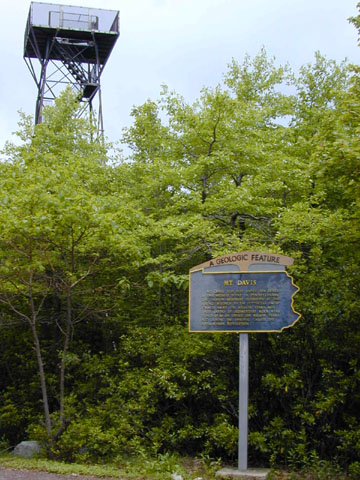 The observation tower in the background supposedely offers a better view, but the wind picked up about halfway up, and brought on my fear of heights with it, so I bagged climbing up the tower. Say what you want you suburb dwelling punks, at least I gave it a shot.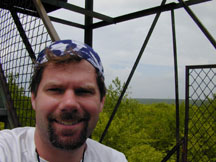 By now I was wondering what to do next, my plans were to be in Pittsburgh Saturday afternoon to visit some friends. Looking at the map, I realized that I wasn't far from Fallingwater, which I have always wanted to see, so I started to head that way, and almost headed straight into disaster.
I stopped at a picnic area at the base of the mountain to find a bathroom, and almost locked myself into the portable toilet pictured below.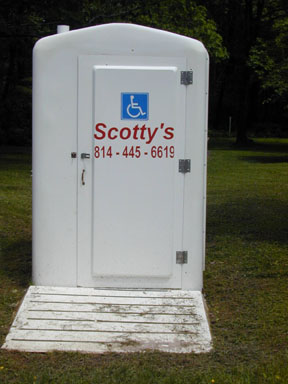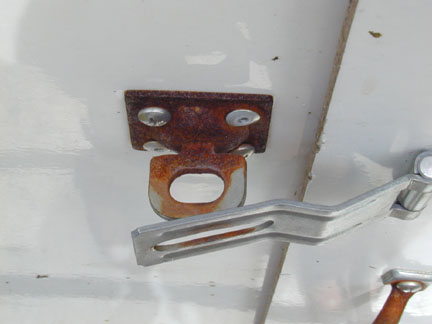 As I entered, the spring on the door slammed the door shut so hard that the latch pictured to the right actually closed. As you can see, there are notches at the base of the rusty part. When you push the door open from the inside, the latch bolted on the door would move into that gap, and refuse to open. Using the long blade on my Swiss Army knife (which with remarkable foresight I had been carrying in my pocket all day) I was able to push the latch off and open the door. It all took about a minute, but somehow it seemed longer. I had visions of having to kick the door out, and it was fairly well bolted into the fiberglass. I would have been kicking for a while. Needless to say, I will be keeping my knife on me at all times from now on.
With that bit of excitement out of the way, I headed straight (well, not exactly straight) off for Fallingwater. More farms, rolling hills, horse drawn buggies, and cows for scenery as I went.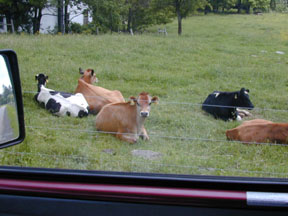 Here are some cows I stopped to "Moo" at shortly after the "incident"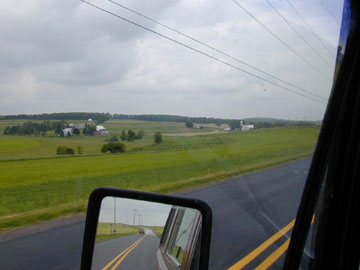 Typical view for the day
Once again, I was the nemesis of all those wanting to drive fast. When I could I let people by, but there is not much in the way of a shoulder on these roads. And while I have to turn off the A/C to go up some hills, turning it on seems to help with the engine braking going down them.
So here are the top 5 items purchased while outfitting for the trip so far...
1) Cup holder (they don't come with these vans, try living without one for a while)
2) 12V fan that sits on my dashboard
3) Digital Camera
4) Remote control for stereo (works great when lying in bed)
5) Stainless steel insulated coffee mug
And now, the all time #1 item, of course, it is the Swiss Army Knife, purchased in 1978, and still serving me very well.
Saw these windmills outside of Meyersdale, hard to tell from the picture, but they were huge.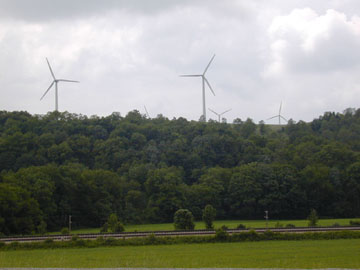 I wanted to drive over to see them, but the harder I tried the farther away they got (just kidding).
I got to Fallingwater around 4:00, and it was closed, so I headed for a campground in New Stanton.
When the railroads announced that they would no longer stop in Connellsville, the town decided not to take it lying down.
I checked in around 6:00, and feeling like I needed some exercise asked if there were any bike trails. Drove to a little town nearby and rode my bike for about 5 miles on the YRT (Youghiogheny River Trail). The name of the town was West Newton, and they have an amazing cemetary that I rode through. Very well kept, and most of the gravestones I saw were from the 1800's. After the ride, back to the campground.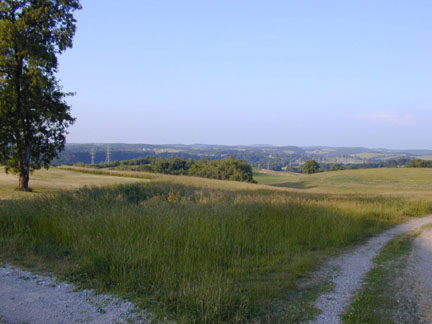 View on the way back from bike riding
Cooked a couple of grilled cheese sandwiches for dinner while organizing things in the van. After that, a much needed shower. I struck up a conversation with an older couple while waiting to use the sink to wash my dishes, and it turns out they were driving around in a VW Eurovan (the latest version of the van I have). These vans have 6 cylinder engines. This was their second VW camper, their first being the same year as mine. They were telling me how nice the extra cylinders were, and describing a hill in Nova Scotia they went up in their old van that they almost had to take in reverse to get up it. But they had no problems with the Rockies, so I should be ok. If I had only waited another year I could have afforded the Porsche 3.2L engine conversion!
I spent the rest of the evening typing up emails, and then to bed. Another great day. I will be in Pittsburgh for a few days, after that I am not sure where I am heading, either Michigan, or New York to hike the high point there. I'll send an update next week when I figure it out.
Peace
Glenn