Sent: Saturday, June 16, 2001 4:57 AM
Subject: And you thought I would never leave....
....well, I finally did, yesterday (Thurs Jun 13). And not to give away the ending, but it was a great day. Well worth the seemingly interminable wait. Got up around 6 (am), finished throwing a few things in the van, and then headed out to have breakfast with my friends Heidi and Nate. Afterwards, it was time to get on the highway. Interstate 270, up to I-70 West, to I-68 West. The plan was to get all the way to the edge of Western Maryland to hike the highest point in Maryland. As you can see from these pictures, the van has a little more cargo than before....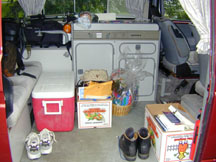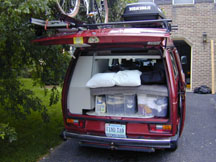 Was feeling good when I finally got on the road. The stereo was proving it's worth, had John Lennon's greatest hits in ("Life is what happens when you are busy planning for it"). A few miles after you get on 68, they have a cool geologic formation visible where they cut through the mountain to make the road. I stopped to take a few pictures, and I took my time. You know how you always feel rushed at this sort of thing, it's cool enough to stop and see, but you have to get back on the road (or the world will come to an end, I know it will!!). Well, I just took my time, hauled out my camera bag, and wandered around looking for good shots. It was great. Unfortunately, the day was exceedingly hazy, so I don't expect great pictures. Here are a few that I took with the digital camera: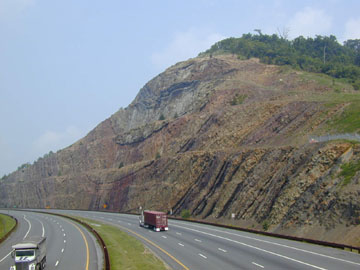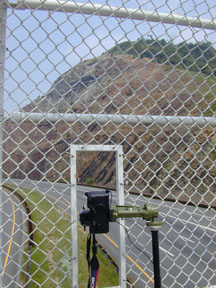 Over the course of the next few miles I was in for a rude awakening. After years of screaming down our highways as fast as legally (heh heh) possible, now I was the guy in the right lane. In fact, not just the right lane, but the far right truck lane. Not only that, but I started turning off the A/C on the uphills. Very sad. At one point, I had to downshift (gasp) into second to get up a hill. I guess successful change is all about moving out of your comfort zone (but does it have to be this hard???? ;)
Just for the hell of it, I stopped in Cumberland, and wandered around looking for good photo's, but didn't find too much. Got back on the highway, and a short while later started heading south on 219, the kind of windy 2 lane blacktop this kind of thing is all about. The Maryland High Point, is so close to the West Virginia border, that the trail head is actually in WV. To get there, you take 219 into WV, and a mile past "the smallest church in 48 states" you will find the logging road that leads to the summit. Well, I had to see what the deal was with this church (which interestingly is not the smallest in the "contiguous", or "lower", or "the" 48 states, so I think they have the 3rd smallest church in the entire US and are playing with us a little). Well here it is: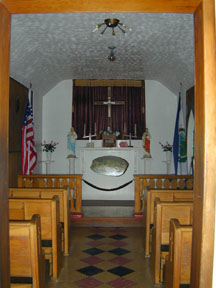 Not only that, but right next door is this!!!!!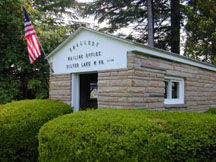 The smallest post office!!!!
So I make it to the trail head, park the van, load myself up with camera equipment in order to capture this momentous occasion. It's only about a mile hike to the peak, Backbone mountain, which is itself only 3360' above sea level. Fortunately, the elevation gain for the hike wasn't too bad since I am badly out of shape. Was a very pretty hike.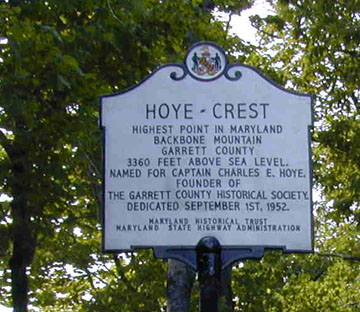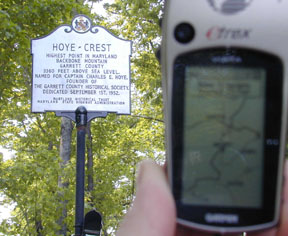 The second picture was my attempt to capture the marker and my GPS reading of the location. Well, I saved the reading as a waypoint in the GPS, which I am planning on doing for every summit I make.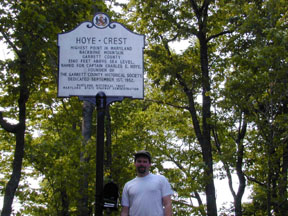 At this point I was having so much fun, I ran about half way down the mountain going back to the van. Turning the last corner on the trail, where the road and the van came into sight, I was struck in a very visceral way that what I am doing will change my life forever.
I finished the hike and was back on the road by around 6. The plan was to head towards PA (to hit the PA high point today), and find a place to camp. I was considering a Wal-Mart parking lot, but had downloaded the wrong list of stores. About this time I was getting hungry and wondering what to do about it. I found a nice scenic overlook and decided to pull over and have some dinner. I parked the van, fired up the stove and made some spicy vegetable with rice soup (well, I heated it up). Put some Miles Davis on the CD player, sat at a picnic table and ate my soup while looking at some mountains on the other side of the valley.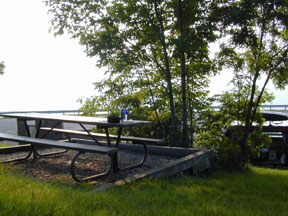 Due to the haze, you can't see them, but there are some mountains off in the distance. There was a rest stop there, so I washed up the dishes, and back on the road. Back up on the interstate, I saw some state parks with camping, so I pulled off and drove to one. After a long drive down a dirt road, I finally found the camping. I lost a lot of elevation driving into the camp site, it got really humid, and there was a very pungent deep forest sort of odor. Found a great spot that had a stream running behind it.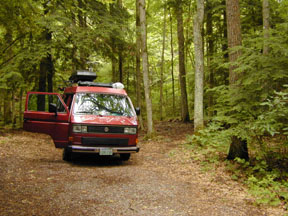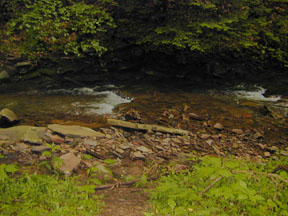 These were actually taken this morning, it was dark by the time I got set up. Went to bed by 10, some things going bump in the night got me up around 3 for a while, but other than that was uneventful. That was it for Day 1, Day 2 was just as exciting in it's own way, but I need to wrap up this message.
First: We have a winner!!!!
The correct answer to last week's trivia question was provided by George Miller, and I'll let his reply explain the answer:
"The significance of the Jeff Beck song "The Pump" could possibly refer to your feeling of elation from pulling out of the driveway as Cruise did in "Risky Business""
That was the song playing when Tom Cruise first took his father's Porsche 928 for a drive in the movie "Risky Business". I always planned on playing that song when I bought a Porsche, or in this case the "Anti-Porsche" as Lana calls it. "Volkswagen, there are substitutes". Congratulations George, you get 1000 Points.
I have been asked the meaning of the points, and I'm afraid you'll have to wait (until I think of something).
So here is this week's questions (I had a lot of time to think), they are each worth 1000 points, but you can only get credit for one correct answer.
Who "threw seven's"? (but Billy said that he threw eight's)
Who "went up to their room, only to find Gideon's bible"?
Complete this Neil Young opening line: "Look out Mama, _______ _ _____ ____ ______ __ ___ _____"
Whoever can tell me the common theme in all of these songs will receive a 1000 point bonus.
Good luck all!!!
Day 2 recap coming soon (with a quite amusing little tale). Thanks to everybody who has replied, it is great to hear from you (and I manage to respond to almost all messages I get). I have one request though, when you reply, please do not send me back the images in the message. Since I don't have access to the bandwidth you all have, it takes forever to download the email.
Peace
Glenn