Sent: Wednesday, July 25, 2001 5:52 AM
Subject: Cheddar
The drive up to Wisconsin was kind of intense, as I was thinking about how I was now heading into territory that I had never been in before, and that I was going to be in states where I don't know anybody, and that I would be at least a state or two away from anybody I did know (and not original 13 size states either). But that is part of the adventure I guess. After a while I started to get excited about the idea again.
As much as it pains me to say this, based on my afternoon in Madison, I would have to say that it rivals, if not exceeds Ann Arbor as a great college town. I only have a few hours of data, but the trend didn't look good. Chris, this in no way should be taken as giving props to the University of Wisconsin, and certainly not their athletic program, it is just the town I am speaking about.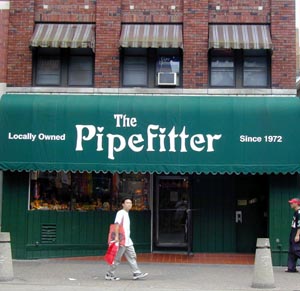 This interesting shop had all sorts of little pipes labeled "for Tobacco use only".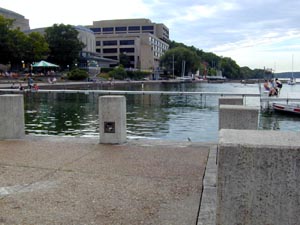 I was standing by my van, and some guy walking down the street apparently noticed my Virginia tags and stopped to ask the correct pronunciation of "Henrico". He thanked me and told me I had saved him the trouble of looking it up. For my fishing friends, I struck up a conversation with the owner of a small sporting goods store in town, apparently he has been a fishing guide for over 30 years and he was telling me about somebody he had out last weekend who caught a 50" Muskie. Not knowing anything about fishing I acted really impressed. Stayed in a campground about 10 miles North of town. Of course, as I was headed there, I noticed a lot of banging when I hit bumps in road.....so when I got there, I checked it out....and the bottom bolt of the left rear shock had come out. As you may recall I had put new shocks on a few weeks ago, and I remember tightening those damn things pretty hard, but apparently not enough. Decided to stay the next day to fix that, do laundry, catch up on email, wash the van, do some grocery shopping, and clean up the inside. Another phone call (this one to Karl the Westy guy) to get part specs, and off to Napa. Once under the car I tightened every bolt on every shock absorber as hard as I could. I asked Karl about whether I should put loc-tite on the threads and he said that he has never had to, so I'll just check them every day for a while. That's about it so far. I am headed for Sioux Fall SD today, and by the end of the week should be in the Badlands. From there I'm planning on checking out the Black Hills, and Devil's tower before heading into Montana.....