Sent: Monday, July 16, 2001 7:46 PM
Subject: Episode IV: A New Beginning
Monday June 2, 2001 dawned clear and cool, well, actually I have no idea about that, but it was nice when I woke up around 7, which feels like dawn to me (well it is dawn at certain times of year, but I digress). New tires and wheels, the van repacked a little more efficiently, I was ready to go. The plan: Head up to Ithaca to visit friends, work my way over to New York City to visit more friends, and then head West. My itinerary for the day's drive to Ithaca included a stop to visit Karl, the Westfalia genius outside of Frederick MD to talk about vans, and maybe fix a few little things that were acting up. The drive out there was beautiful, and Windy! And while I could feel the wind buffeting the van, it did not blow me around, and I was able to take on/off ramps at speeds greater than 25 mph without fear of tipping over. Not quite to the level of the old BMW, but certainly at the level of most SUV's.
Spent a few hours hanging out with Karl, and we managed to get the drivers window crank working, and he fixed the odometer, two seemingly small things, but highly annoying when they don't work (opening the door to pay tolls gets old after a while. From there I headed North to Ithaca, and had beautiful weather the whole way, as well as lots of wind.
Here is a little picture just across the border of NY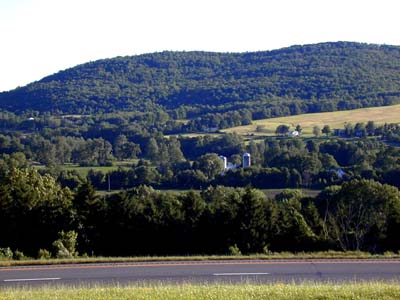 Shortly after this I just had to take a picture of this truck...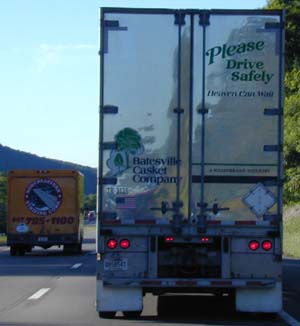 I arrived at my friends Kristin and Paul's awesome place on one of the finger lakes (the one with Ithaca at the bottom). Here is a view from their driveway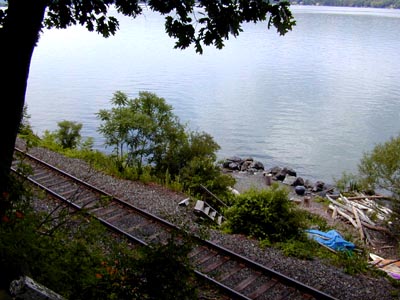 That night some of their friends came over and we drank beer and sat down by the lake to watch fireworks. We also played a game Paul invented not dissimilar in rules to $25,000 Pyramid, and, needless to say, the Y Chromosome once again proved its superiority at meaningless games of trivia.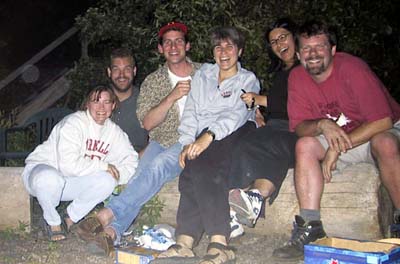 The next day I did a little hiking and saw these cool waterfalls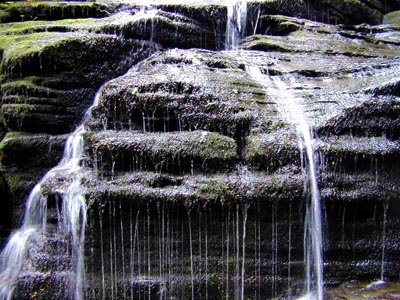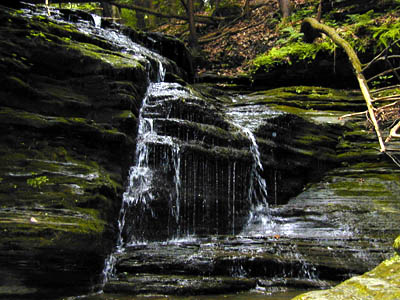 That night we drove up to Syracuse to see Sherman Robertson (I think that was his name) at the Dinosaur, an awesome Ribs/Biker Bar/Blues Bar. I can honestly say that those were the best ribs I have ever had. We drank lots of good beer, and the music was great. On the way home I made Kristin stop so I could buy a frozen pizza (that I never ate). Took it easy the next day (read: slept in to recover from nasty hangover), Went to se AI (none of us liked it, I felt that Kubrick's vision, which dominated the first half of the film, was ultimately unrealized, and the Spielbergian latter half tried unsuccessfully to straddle the fence of feel good morality play and non-sellout film credibility). Hmmmm, maybe I can start writing film reviews on line, and get a guest appearance with Roger Ebert.....
After the film, we sat around the lake, and watched the fireworks display put on by their neighbor, who appears to have spent the equivalent of the GNP of Belize on fireworks.
The next morning I did some research on the Catskills, and decided to head there. Wandered around downtown Ithaca for a little while, bought some good CD's at this little shop that sadly will probably be out of business in about a month. He couldn't have had more than about 400 CD's of inventory, and only about 20% of it was the usual pop/rock. Met those guys for lunch, had some good Indian food (well, I like the bread a lot), and headed down the road towards the Catskills.....