Sent: Monday, July 23, 2001 3:57 PM
Subject: First Bite
I am beginning to get that feeling I used to get when I had a paper due and I hadn't written it yet. At this point I am about 2 weeks behind in my narrative, so I am going to do my best to catch up, so, as is always the case with the last minute paper, it can go one of two ways, it's really bad, or somehow, in a late night caffeine induced state of brilliance you write the paper or your life. I'm not counting on that, but the best part is that no grade or performance review is based on the quality of these communiqués!! Hah!!
To give a little context, it is almost 8pm on Monday July 23 and I am currently in a campground a few miles North of Madison Wisconsin. If all goes well, I'll get caught up in the next day or so, so here we go......
Monday July 9
New York City, The Big Apple, The City That Never Sleeps, Gotham, Metropolis, whatever you call it, it is still one of my favorite places on this planet. I know people that find the intensity and madness stressful, but when I'm there I feel alive, and at peace. All that energy feels comfortable to me. I love the transit systems too. Take a train into the city, hop on a subway, take a cab; there is no need for a car. I love cities with subways. It's the closest thing we have to teleportation. You go down some steps, through a turnstile, hop on a train, and shortly after you magically walk up the steps to somewhere else. There is a certain pleasurable challenge to decoding the subway maps in each city, and then figuring out "The Best" way to get somewhere.
So I materialize outside of Madison Square Gardens, and give my buddy Jim a call to look up the address of our favorite mail order camera store. They have a huge new retail store that I wanted to pay a visit to. Turns out it was only a few blocks away so I walked over, and spent the first 15 minutes wandering around in a daze at the selection. I managed to escape with only minor damage to the credit card, and headed up to Times Square on the subway. My friend Suzanne was in town for a seminar and was doing me the huge favor of letting me crash with her. I met her for lunch and dumped my backpack. Went for a walk and took some pictures, all in or around Rockefeller Square....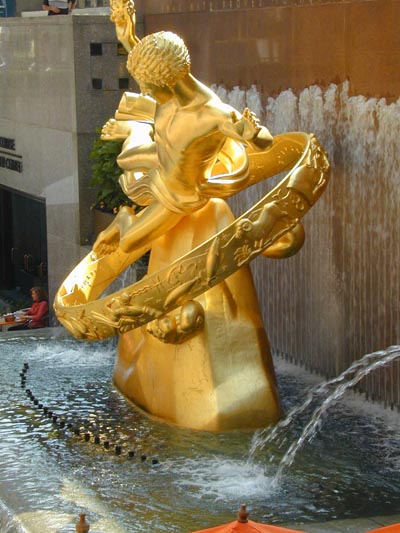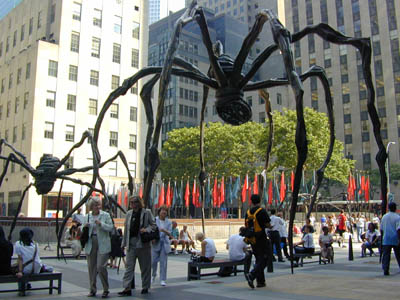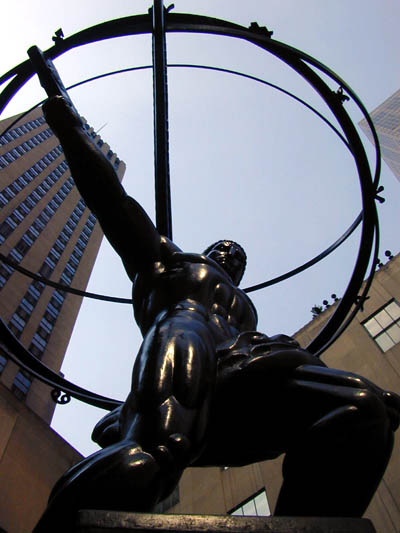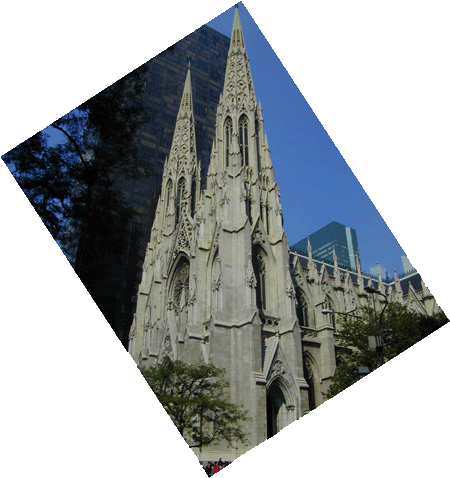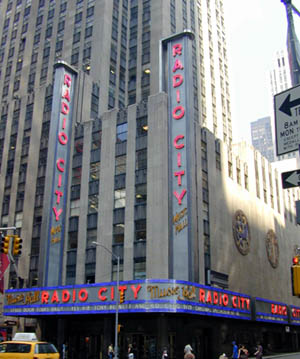 The plan was to get some dinner, and then meet up with Suzanne's brother John, his friend Tom, and Tom's girlfriend Apollo. John lives in Richmond, but was up in the city for a few days before heading out for some gigs in his job as bass player for Bio Ritmo. They met us in Times Square, and we took the subway down to Soho to hang out at Apllo's apartment. We went up on the roof for a while and enjoyed the great view over a few beers. After that we went downstairs while Apollo (who is an actress/singer/kung fu chick) showed some great martial arts moves with the num-chucks. She is putting together a choreographed martial arts stageshow that should be touring later this year that looks like it will be totally amazing. We were all duly impressed, and warned Tom to stay out of trouble or he would pay a very steep price....