Sent: Saturday, August 18, 2001 11:24 AM
Subject: Go West
***Note: I have been trying to send updates for about two weeks now, but am having serious problems with my email provider, I send messages, and they just disappear. Been having a great time on the trip though, have several hundred pictures to sort through to write the next several updates (digital pictures that is, not counting the 29 rolls of film that I have yet to develop. Thanks for all the inquiries during my email absence. And for those of you who write just to harrass me about not sending updates, well, as soon as you start sending me a regular paycheck, I will start sending you regular updates. This picks up where I last left off in Madison WI, I think it was around July 25th. ***
We have to go back in time a little ways to pick up where we last left off in Madison Wisconsin about two weeks ago.....
What a day, traveled about 450 miles, from Madison WI to about 25 miles West of Sioux Falls SD. Had a great day, was in a good mood all day. Had good weather most of the day too. First major highlight was crossing the Mississippi river.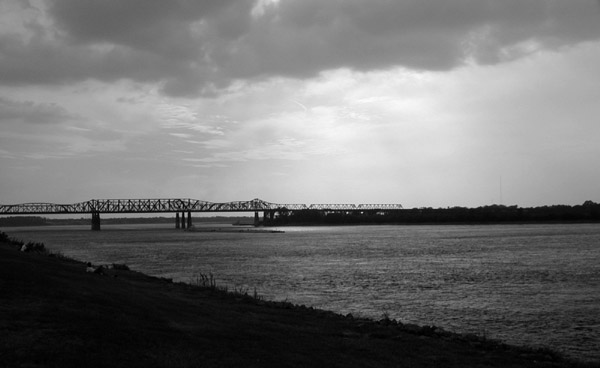 Never done that before. That is a picture of my foot in the river.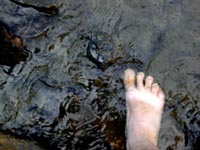 I felt the need to connect with the river in a way more direct than just taking a few snapshots. After that it was a straight shot across Minnesota on Route 90. A long straight road through all farm country. Very beautiful though, lots of green. Struggled to find a picture to take that would somehow capture the mood of it. This was the best I got.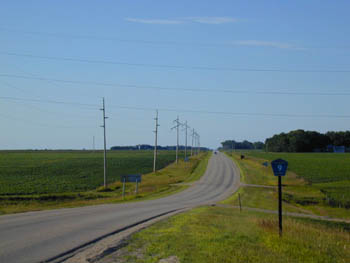 The highlight had to be getting interviewed for the longest running radio show in America. "Welcome Travelers" broadcast on KBEW since 1963 is an interview program put together in Blue Earth MN, right off of Interstate 90. When I stopped for gas a guy approached me as I was getting out of the van, asking if I was an adventurer and would I be interviewed for the program. His name was Will, and he hauled out a portable tape deck and interviewed me about my trip right there at the gas pump. When I mentioned leaving cubicle life, he said "our listeners may not be familiar with what you are talking about can you describe a cubicle to them", so I described the dimensions etc. of a cube, and then tacked on "you know, kind of like a little veal fattening pen". I wonder if that will make it to air. Of course there isn't anything for free in this world, and since I have my own "broadcast" to consider I agreed to the interview only if I could get a picture of him...
Here is my interviewer backed by the largest (and only) statue of the Jolly Green Giant.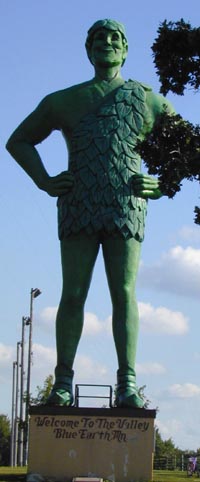 After that it was to Sioux Falls, where I drove through what I think was downtown but didn't find much, although I kind of liked this sign: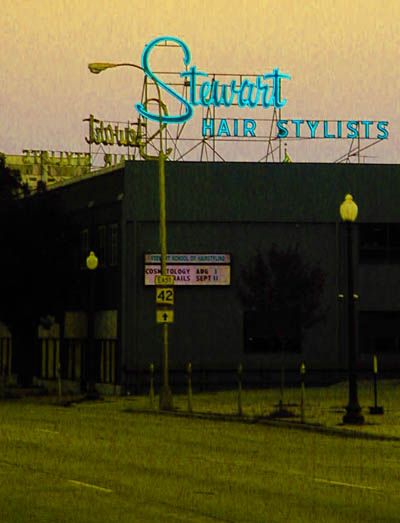 From there it was on to the campground. The best part of the campground was that the check-in place was also a general store and bar, with cold six packs of Pabst Blue Ribbon and boxes of Winchester 12 gauge shells right next to the register!