Sent: Tuesday, July 24, 2001 5:27 AM
Subject: Let the music do the talkin'
Well, I had this one written, and tried to send it at the same time as the last one and...poof, eaten by Microsoft Outlook, so here goes again....
Tuesday July 10
Woke up Tuesday with plans to hit the museums. Went to the Metropolitan Museum of Art, but after looking around decided not to stay (been there once before), so I headed up to the Guggenheim, which is one of my favorite museums and I go there every time I am in the city. Although this museum has been photographed endlessly, I had to take a few more shots....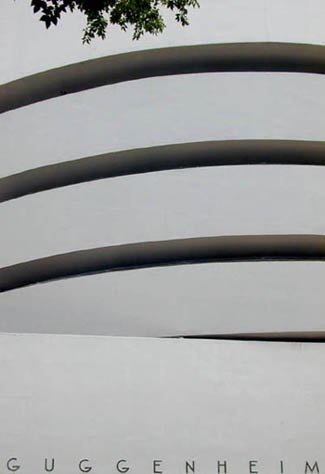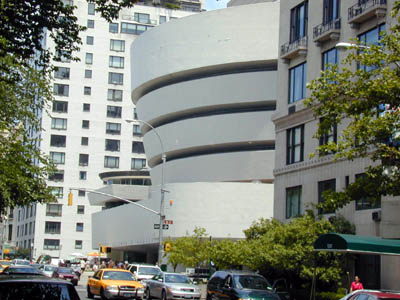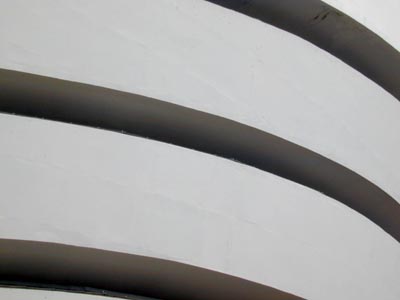 Of course on the way I had to get some pictures of the subway...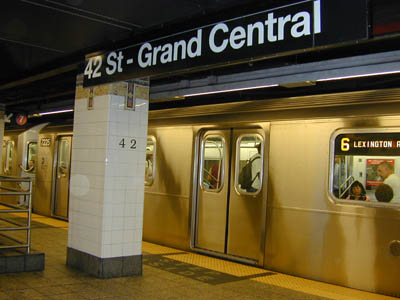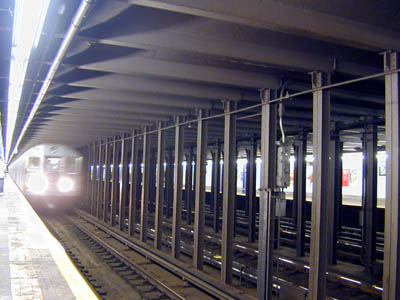 After a few hours there, I went back to take a quick nap. On the way, I happened to be walking by the MTV studios in Times Square while they were filming TRL. I guess Puff Daddy(or whatever his name his now) was supposed to on, so the crowd was pretty big. I happened to have my zoom lens on the real camera, so I took some shots of Carson Daly from across the street (don't ask me why, it just seemed like the thing to do at the time).
That night Suzanne and I met John, Tom, and Apollo down in the Village at a park where Apollo was practicing crazy kung fu stuff with her teacher. Those guys were amazing. They could kill you 5 times over with a bic pen before you even knew you were dead. It was very cool. From there we went to have dinner at this awesome little Cuban restaurant. Very tasty. At that point everybody had other plans or wanted to turn in for the night, so I decided to go see some jazz. David Sanborn was supposed to be playing at the Blue Note which I guess is this famous jazz club. So I walked over there, and they wanted a $30 cover charge. Not familiar with his music, I decided to take a chance and forked over the money. The show was just about to start so I went to the bar to get my required $7 drink. The sound quality and musicianship were impeccable, but I found the music very dull. Hung around for about three songs to see if it got better, and decided that I would rather walk around the city than be bored, so I cut my losses and left. Got about a block away and heard some music coming out of a bar so I stopped to see who was playing. The bouncer told me there was no cover so I headed in. Whoever the sound guy for this band is, he should be shot, because it sounded like their amps were buried in a swamp. The band, however, was great. They were like this Funk/R&B/Rock band with a crazy 6'5" bass player who just banged away on his bass. They played their own stuff and some covers, with bits of songs appearing in the middle of others, and they would change around the lyrics. They played everything from Outkast to Nirvana. At one point they started jamming a John Coltrane tune that at some point morphed into a Tears for Fears song. About 3 songs in, I realized that I was the only representative of my Western European heritage in the entire bar. I guess that is the great thing about music, none of that stuff matters. I talked to one guy who had just moved to the city and was loving it. A little later I talked to another guy, he had been born in Jamaica and moved to the city when he was four. I was telling him about my trip and he told me that he had always wanted to see the Rockies. I asked him why he had never gone, and he said he was afraid to go by himself and didn't know anybody. I told him I would show him around when I got out there, and he was totally pumped, so he gave me his number and told me to call him when I got out there. I don't know if he was serious, we had both had a few drinks, but I have his number somewhere, so maybe I will call him when I get out there. When the band took a break I went up and talked to the bass player for a while. The $7 drinks at this bar earned their steep price, so I have no recollection of what we talked about. For the second set there were only about 20 people left so I moved up to the front. At one point they were totally jamming to this Nirvana song and I believe that I was standing up and singing along, and maybe even dancing around. I wish I could have gone up the street and gotten my $30 back and given it to these guys, they earned it They finished up around 2am, and I left, only to get outside and realize that I had no idea where I was. So I went back inside and asked the bartender for directions to the closest subway station. Putting my trusty subway map reading skills to good use, I was back near Times Square in no time. Rumor has it that during my walk through Times Square I left several highly amusing messages on several people's voicemails. I wouldn't know anything about that. Finally got to bed around 3am.....