I arrived at my friends from Burning Man Bill and Mary's house Saturday afternoon, and we went out to play some frisbee golf and sample some of the local microbrews. After being sick for a week I recouped at their house for a week and had a great time. On Sunday we went to EMP (Experience Music Project), which is Paul Allen's homage to Rock'n'Roll in Seattle, and was very cool. Mary taught me how to play Cribbage (and taught me how to lose badly too). Bill and I explored the area during the week, and did some hiking and checked out this great waterfall...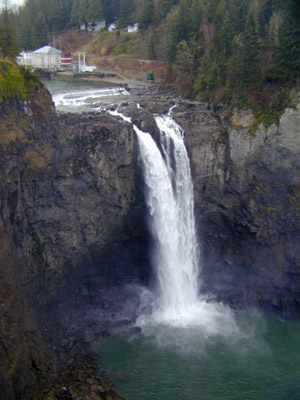 ...I taught them (and their kids) how to play Euchre (the greatest card game ever, so good it probably cost me a full point of my GPA in college). After hiking we hung out in Bill's killer wood fired hottub. We plotted grand schemes for this year's Burning Man. I was having such a good time, I asked them if I could be their mysterious older son that came home to live for a while (sort of like Richie's older brother on "Happy Days"). For those of you wondering what Burning Man is about, and have read about all the insanity that can occur there, this is what it is really about; camping next to people who are complete strangers for seven days that become the greatest of friends that invite you into their home and who you know will be friends for a long time to come. The time came for me to move on however, so on Friday morning (Feb 8) I headed out, after finishing up the repair on my accelerator cable first....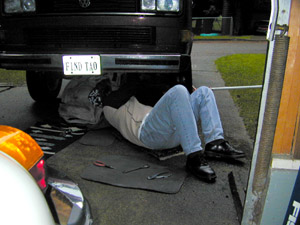 One last picture with Bill before I hit the road, after hanging out every day for a week, it sort of felt like I was leaving the brother I never had behind, but I know I'll see them again in the not too distant future.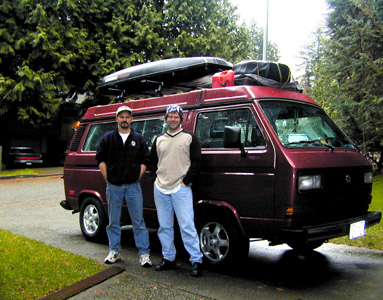 My health and good Karma seemingly restored, I headed North to Snowboard Mt. Baker and then to Canada to go to the famed Whistler, rated the best mountain for snowboarding.
Answer to the last trivia question: Vladimir Ilich Ulyanov, more commonly known as Lenin. It seems as the former Soviet Union crumbled, someone picked up that statue and brought it over to Seattle. Maybe they should go put it in front of Enron's headquarters.