Yes! I am still alive, and still journeying. Currently in Eastern Idaho, I went snowboarding today at Grand Targhee in Wyoming. But for now I'll pick up where I left off back in February....
The scarcity of good luck was finally put to rest as I rolled into Portland on a sunny (Sunny!!!) Monday, Feb 11th. I went for a run and got ready to head up to Mt Hood the next day. The weather forecast was for clear skies and warm weather all week, so no fears of freezing car parts stranding me on the mountain again. Snowboarded Tuesday and Wednesday on Hood, had an great time. Great weather, great snow, no one on the slopes. They have a great terrain park, in fact two of them, a smaller one for warming up, and a bigger one. After a few runs hitting jumps on the smaller one I moved onto the bigger one, not without a little trepidation. But after nailing the first jump I got a little confidence and spent the rest of the day in the park hitting jumps. It was so addictive I went back and did the same thing the next day.
Here are few pictures of and from Mt Hood....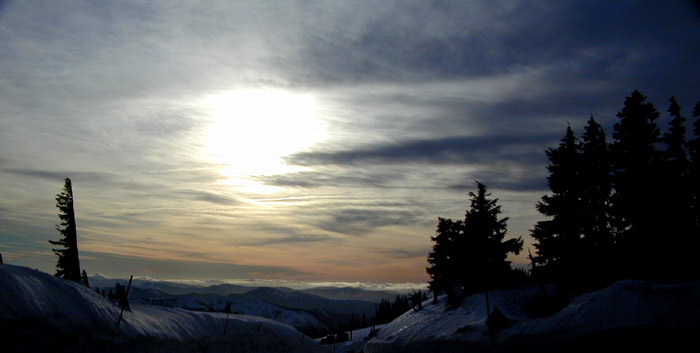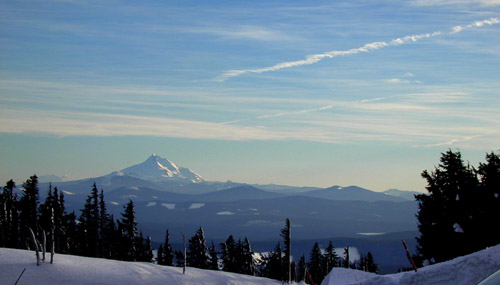 Expected good weather in Bend was drawing me towards Mt Bachelor, so Wednesday night I got on the road. I had been hoping to get a good picture of Mt Hood and had pretty much given up hope, when I saw the scene below in my side mirrors and stopped to take a few pictures. I'm hoping the slides come out, this shot doesn't really capture what it looked like.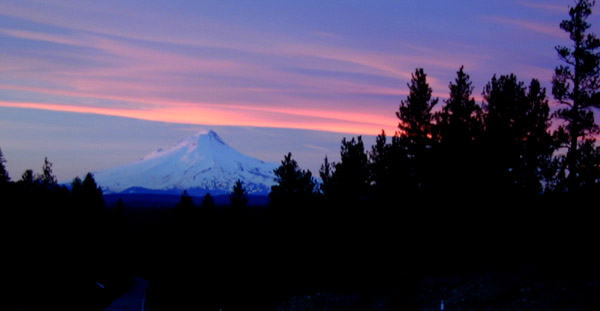 The weather in Bend Oregon was as expected, perfect. I had two amazing days snowboarding Mt Bachelor, which you can see in the picture below, about a third of the way in on the right. Took my first shower at a truck stop, was actually pretty nice, a lot better than at most campgrounds I have been to. Generally had a good time in Bend, just a great town to hang out in.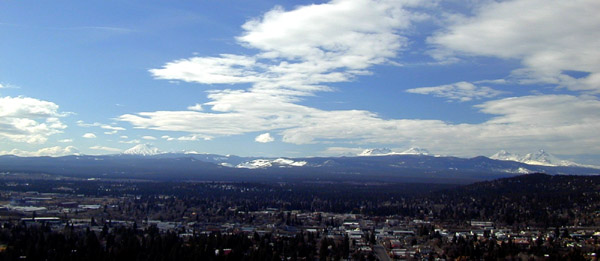 For those of you who like the trivia portions of these missives, here you go....
Name one or both of the common names for the ancient capital of Persia (located East of Shiraz Iran) that was burned to the ground by Alexander the Great on his march towards Asia.
Bonus: Name the Welsh explorer whose name I saw carved into one of the ruins in the question above (hint: He found Dr. Livingstone)