Must be a story about the Pacific Northwest with a Subject like that.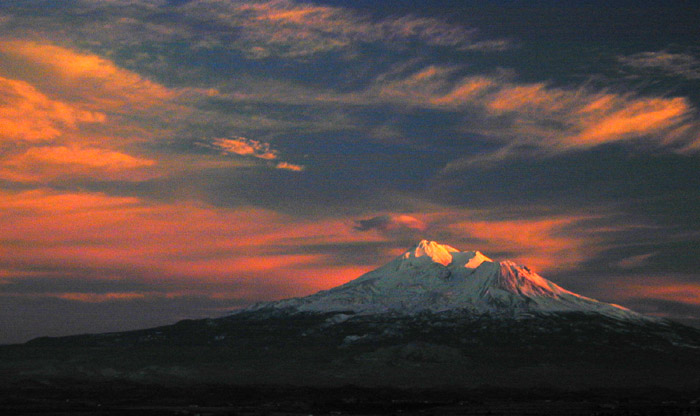 Mt Shasta (Northern California)
I rolled into Portland Oregon late on Jan 18th and proceeded to the nearest Wal-Mart. Ominous signs about towing chased me off to a neighborhood nearby where I parked for the night. Wanting to avoid the weekend ski slope crowds I decided to check out Portland on Saturday. I happened by an internet cafe so I looked up a reputable film shop in the city to drop off some film to get developed. Foolishly thinking I could just find the Portland visitor center and park somewhere to explore I boldly drove into the city. Well, twice I followed the trail of signs for the visitor center, and twice they led to nowhere. I decided to bag it and explore on foot. No parking. I mean NO parking. It made San Francisco parking look easy. There were some lots, but they were $2/ half hour, too rich for my blood, so I took off. Sunday I drove up to Mt. Hood and went to Meadows to do some snowboarding. They had been really getting dumped on with snow, and it was continuing that day. Finally had to use my chains. Snowboarded for a few hours, but there was so much wet powder that it was only so fun. With the weather continuing to get worse I bailed out of there, only to find that the road I took had been closed, so I had to take a very long route the other way around the mountain back to Portland. More snow on Monday so I stayed in the city, picked up my film, and took one more shot at downtown Portland and the visitor center. No luck again. Some guy road raged on me after I waved hello to him when he cut me off. Fortunately, he was going the same way I was on the highway, so I followed him one or two cars back for about 10 miles and caused a fight between him and his wife. When I had been behind them for a while I could see them waving their arms at each other and he tried to get away from me. Sometimes there is an advantage to being a scary looking guy in a van.
The next day I went to Timberline on Mt. Hood. There was so much powder that only about half the mountain was accessible, and if you fell anywhere off the main runs you had to hike out in thigh deep snow. There was one pretty good run, and some kids had built a small jump on it, so I stuck to that. This is where I first performed my new trick. I call it the "Frontside 90 - Sternum 540". The fact that there is a reference to 90 degrees of rotation should be cause for major concern. So here is how it goes - As you come off the jump, you rotate 90 degrees (presenting a surface with high coefficient of friction, "the edge" perpendicular to your vector of travel), as you land, your edge plants itself in the snow, transferring all of your forward momentum into an arc with your board as the center and your head tracing the outside of the circle. Of course you are unable to complete the circle, as the ground gets in the way. That is the Frontside 90 portion of the trick. Now for the second part, the Sternum 540. As your body's angular momentum is brought to a rapid stop by the ground, the new center of your rotational energy becomes your sternum (specifically, that spot on your sternum near the bottom where there is that little indentation that you put two fingers in to mark the correct starting point for CPR). Now the board is in the air, and sweeping an arc back over your head. the 540 refers to the one and a half rotations you make in the vertical plane at this point. If you do it right, like I did, you are now back up on your board and sliding away from the scene of the accide...trick. Of course I was so stunned that I stuck it on my first try, that I proceeded to fall in a heap after only a few feet. Still in a daze, I looked around for the source of the clapping noise I heard in my head, and finally realized it was the applause from the people riding the chair lift.
A few more runs down the mountain and I decided to call it a day as the weather started to worsen. When I got out to the van there was about 8 inches of new snow on the parking lot and the wind was starting to pick up. I got in to start the engine to warm things up, and the accelerator pedal didn't move. At all. Stuck. Frozen. I spent about an hour trying to fix it, which involved a lot of lying in the snow under the van and swearing. My efforts were in vain, and finally I gave up and called AAA for a tow off the mountain. Hoping that it was indeed just a frozen cable that would thaw out once off the mountain, I arranged to be towed to my campsite (Wal-Mart) near Portland. The good news is that I got my first ride on a flatbed tow truck.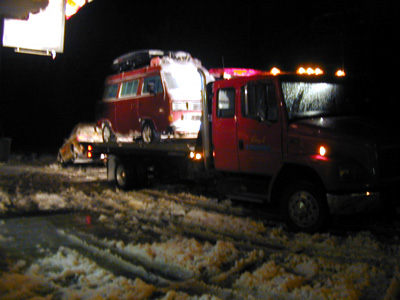 I like this shot because you can see the other car we were towing at the back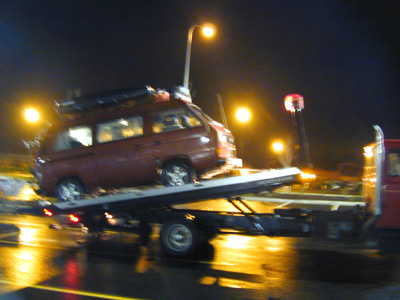 Unloading at the Wal-Mart
Oh yeah, at some point in trying to fix it on the mountain, I separated the accelerator cable from the linkage underneath the pedal, which I thought might be a big problem, but turned out not to be, as I reconnected it right there in the parking lot, and got the van running that night before going to bed. But I did lose the little plastic box that protects the linkage as well as preventing cold air and rain from entering the vehicle from the hole in the floor beneath the accelerator pedal. The next day I awoke to something like my 5th consecutive day of rain. I called around a few parts shops looking for that little plastic box, finally tracking one down. After picking it up, and with no improvement in the weather expected, I decided that Portland and Mt. Hood just weren't working out for me this time around, so I took off for Seattle.
P.P.S. People are always asking for more trivia questions, so here are a few..
In the 1977 Grammy awards, in a travesty more grievous than Milli Vanilli's Best new artist victory, Elvis Costello lost the Best New Artist award to what act?
Bonus question: What song did Elvis Costello play on Saturday Night Live against orders not to, resulting in his banishment from the show for over 10 years?