Sent: Tuesday, September 25, 2001 5:45 AM
Subject: Rushmore
Looking back, I realize that the events of this email took place on August 2nd, about 7 weeks ago, man am I behind. But what is time anyway, now that some Canadian physicists have proven that neutrinos have mass? Nothing makes sense anymore, Linear time is meaningless, GUT's are busted everywhere, eddies in the space-time continuum (what's he doing there?), cats and dogs living together.....ok, this has to stop.....picking up where I last left off in the narrative, I was in the Black Hills of South Dakota, having just hiked Harney Peak, the SD highpoint....
...woke up early to get to Mt. Rushmore before the crowds, got to the free parking lot around 7am, was only the second car there, so my plans to avoid the seething suburban vacationer masses was off to a good start. Hung out for while, took all the typical pictures, read all the stuff put up by the park service. Had a breakfast of French Toast and Bacon AKA "The Thomas Jefferson" at the Rushmore cafeteria.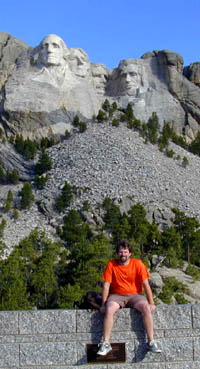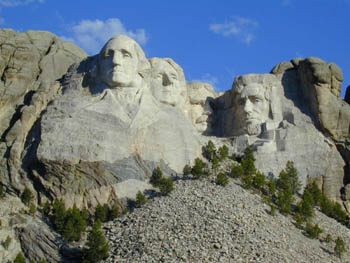 Was to be a busy day, as after Rushmore I headed down the road to the Crazy Horse memorial....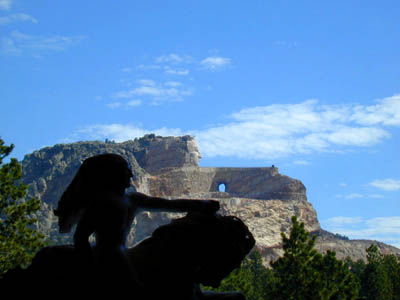 And after Crazy Horse I went to Jewel Cave NP. Not a bad visit, but I didn't like it as much as Wind Cave. My camera batteries died, so I didn't get any good pictures of the cave. Wild fires in Eastern Wyoming prevented me from crossing over the border there, so I had to head back up through the Black Hills to get to Wyoming.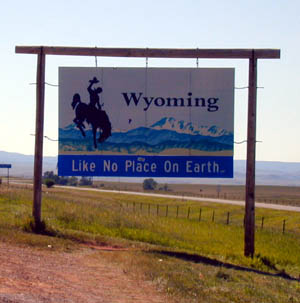 Along the way I was surrounded by a seemingly endless supply of motorcycles. Their numbers had been increasing all week, as the weekend coming up was the Sturgis motorcycle rally. I would have to say overall they were pretty cool, all the ones I talked to were really nice people, even the yuppie bikers. I did however grow a little weary of the volume of their exhaust (in particular, at 6am, and 11pm), leading me to write this somewhat obnoxious little tirade (I apologize in advance if I offend anybody).....
After cruising around the Black Hills for 2 weeks just prior to the Sturgis Motorcycle rally, I am ready to offer my services as an advertising copywriter for Harley Davidson:
Are you approaching late middle age?
Would you like a girlfriend half your age?
Are you overweight and have a bad complexion (and a bad attitude, or can at least fake it)?
Did you either beat people up in High School, or were beaten up in High School?
Do you like wearing old greasy jeans, even if you can afford not to?
Well, stop on in and get a Harley built for two, in no time you will be on your way with a Hot Chick chillin' on the back of your big bad Harley!!!
Order this month, and when your bike gets in, our mechanics will detune the engine and remove all baffling in the muffler at no charge!!
Buy our extended Bad Ass Warranty plan, and we guarantee that for the life of your bike, the engine will never idle faster than 30 RPM, if it does, bring it in and we'll break it again, I mean fix it right up!!!
Well, fortunately, quieter pastures were in my future as I headed into Wyoming with a simple tune in my head and a strange hankering for mashed potatoes....
P.S. I will be using a new email distribution program to send these as I have been having quite a few problems to date. The one unfortunate side effect is that if for some reason an email is undeliverable, I will no longer receive a system notification that it was not delivered, and thus will not be able to resend it. To account for this, I will start numbering these emails, and if you find you are missing a few, let me know. This email is Issue #35.