On the drive to Seattle I heard from my friend Tricia and was spared another night in a Wal-Mart parking lot. A former Cubicle neighbor in Richmond, Tricia now lives in the hip Queen Anne section of Seattle in an awesome house with two roommates. Spent most of the next day drinking coffee and reading the local paper. After something like a week of constant rain, I came to the conclusion that to live in these parts would require a daily cocktail of Caffeine, Prozac, and Alcohol; preferably administered via a permanent IV connection.

That night Tricia and I went to a CD release party at some cool Seattle bar. Forgot the name of the artist, it was Rosie something or other. She was pretty good, and I got to drink some of the ridiculously hoppy beer the area is well known for. Turns out the CD was released on the Sub-Pop label, which was pretty cool. But if it was about 12 years ago then it would have been really hip, but as usual I am a little late to the game.
Made plans to go out Friday night with my friends from Burning Man, Bill and Mary. I started to get a cold on Friday, but figured a night on the town would take care of it. We went out to all their favorite places in town, got the royal tour of all the best bars in Seattle, and drank more great Pacific Northwest microbrews. We had a great time reminiscing about our crazy week in the desert, and making plans for this year. They dropped me off late, and we arranged to get together again in the next few days, and then I would go visit them at their house later the following week. I fell into bed, only to wake up a few hours later wondering what that godawful noise was. It took me a few minutes to figure it out, but it was me. Thrashing around the bed and moaning. Cross one of the worst colds you have had with a top quartile hangover, and you begin to know how I felt. So Tricia and her housemates welcomed me into their house, and I return the favor by getting terribly sick and doing nothing but lying around and coughing on everything for 4 days.
Wednesday of the following week, Bill came and got me and gave me the insiders tour of Seattle for the next two days. We had a great time driving around in his Vanagon, listening to Jimi Hendrix (live at the Fillmore with Band of Gypsies backing him up), and seeing the city.
It's so dreary in Seattle in the winter they paint their vacuums in bright colors to cheer things up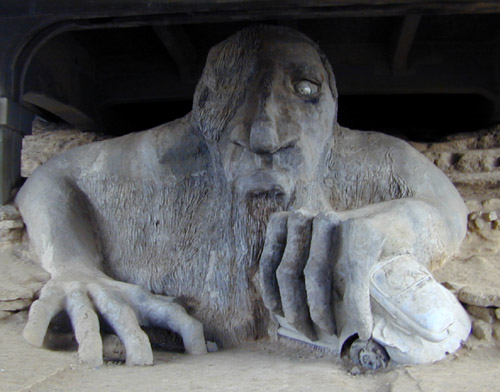 I hope he only eats air-cooled VW's.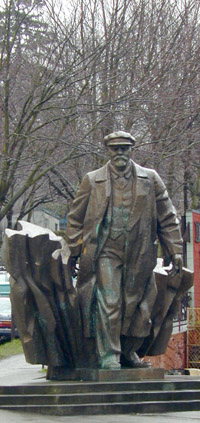 WORKERS UNITE!!!!
This weeks trivia question: Who is the gentleman in the picture above?
Bill figured my journey would not be complete without a pilgrimage to see the master, so we went and checked out Bruce Lee's grave.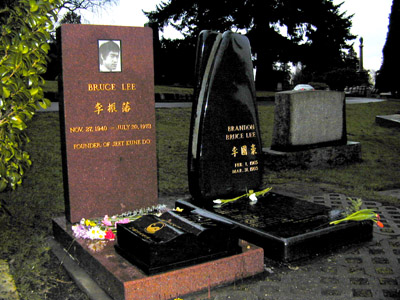 And of course not trip to Seattle would be complete without a trip to the Space Needle...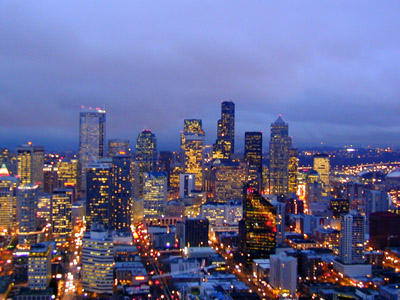 View from the top
Along the way we made sure I got plenty of Hops to help cure my cold. I relaxed during the day Friday, and went out Friday night with Tricia and her roommate Jeff. We were working up a good head of steam, and somebody had the beer-inspired idea of finding a Karaoke bar, so we went in search of one, only to spend so much time looking that we ran out of momentum. We went back to the house and all stayed up until about 3am listening to music and talking about everything under the sun (or clouds in this case). The two of them had to get up at 7am (heh heh) to go snowboarding, I had plans to get up a little later and head up to Bill and Mary's for a few days...
P.S. Answers to last trivia question: First part I goofed a little, it was the 1978 grammy awards, but the answer is that Elvis Costello lost the Best New Artist Grammy to A Taste of Honey. The Cars were also in that category that year, so it was double the travesty. In case you were wondering, the 1977 Best New Artist was Debby Boone, and the 1976 winner was the Starland Vocal Band. For all you aspiring musicians out there, pray that you do not win this award.
The second answer is the song "Radio, Radio", and the whole thing is described here in a retelling of the event that was sent to me from the web:
Let me set the scene: the SNL announcer says: "Once again here's Elvis Costello" as the band launched into a slightly hyper version of "Less Than Zero". Elvis is wearing a grey jacket with a dark tie and a striped shirt, plus narrow-leg blue jeans. As Elvis reaches the line about "there's a vacancy waiting in the English voodoo" he stops short, not quite getting the word 'voodoo' out as he starts to turn, yelling frantically "Stop! Stop!" to the Attractions. The second "stop" is almost inaudible as he has his back to the microphone by this point. Having gotten the band's attention Elvis turns back to the audience and rather earnestly announces "I'm sorry, Ladies and Gentlemen, there's no reason to do this song here". He then turns back towards the band and says "OK, Radio Radio... 1, 2, 3, 4" and the band crash, slightly awkwardly, into the opening chords of "Radio Radio".