Sent: Wednesday, July 25, 2001 5:39 AM
Subject: Twenty Five or Six to Four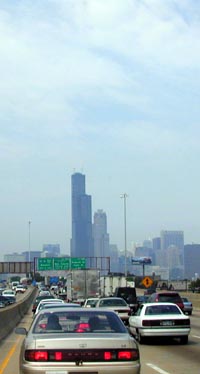 Got into Chicago around 4:30, where I would be staying with my friend Debbie's sister-in-law Kathy (and her roommate Julie) who had graciously offered their place to stay while I was there. Thursday and Friday night Kathy let me tag along with her and her friends going out on the town. Sadly, I am not 27 anymore and struggled to keep up, so I was dragging a bit after being out late drinking beer. Friday day, Julie stopped home for lunch so we went down the block to this crazy 70's decorated restaurant called Kitsch'n. There was a sofa with a coffee table that you can sit at and eat, and while we were there, this guy (who turns out to be one of the owners) mentioned that a TV station might be there filming a story about the restaurant. We didn't give it a second thought, until the camera guy showed up and started shooting. At one point he was about 3 feet away from me and filming while we tried to maintain some kind of realistic looking conversation. All excited that we were going to be on TV we called later to see when the spot was going to air, and it turns out it won't be on until sometime after October 2nd.
That afternoon I took a bike ride down to Lake Michigan and hung out down there. If you have never been there it is a great park. There is a bike trail along the shore with lots of grassy areas, several beaches, and a ton of sand volleyball courts.
Mike, I don't want any comments, but yes, it was a hazy day, terrible for pictures.....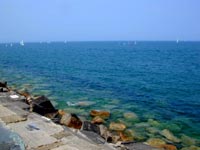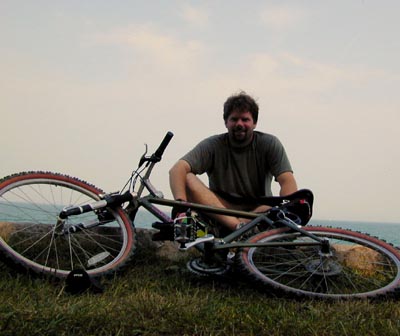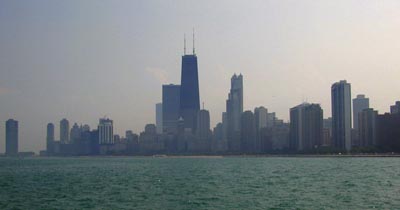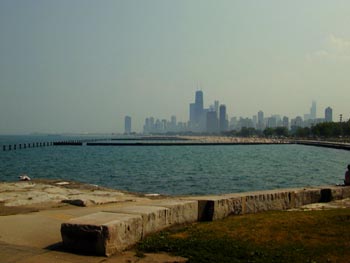 Saturday I went out to breakfast with my old High School friend Marketa (who I had not seen or talked to in over ten years), her fiancÚ Tom, and her sister who was in town for the week. We went to this great restaurant called Wishbone and guess what, second brush with celebrity. Who should be picking up a carryout order but Ross from Friends. I actually stood next to him in line at the register. Whereas I didn't say anything to Steven Tyler out of respect, I didn't say anything to David Schwimmer because the only thing I could think of was "I think your character is an idiot".
Spent the afternoon catching up on the last ten years or so. Listening to CD's at their apartment we realized that we both had some CD's that the other needed to hear, so we made plans to burn some CD's the next day. After taking Marketa's sister to the airport, we went out and had some huge Alaskan crab legs at this little hole in the wall restaurant, The Half Shell with some of Marketa's and Tom's friends (I have since forgotten their names). After Dinner we hung out at their (the friends) restored house, which was incredible, the kind of place that makes you realize you don't really know anything about decorating a house.
On Sunday I helped Marketa and Tom move some stuff to their new house in Oak Park.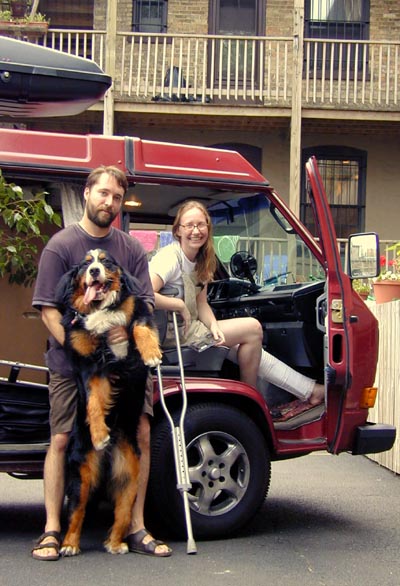 Tom, Logan, and Marketa
It was great to catch up and to meet Tom, we all had a wonderful time. If any of you reading this have some friends from High School or somewhere else that you have lost touch with and are wondering what they are up to, look them up, neither of you will regret it. I highly recommend it.
I had decided on several recommendations to head up to Madison Wisconsin and check it out before heading out to South Dakota.....